COVID-19 Update & Resources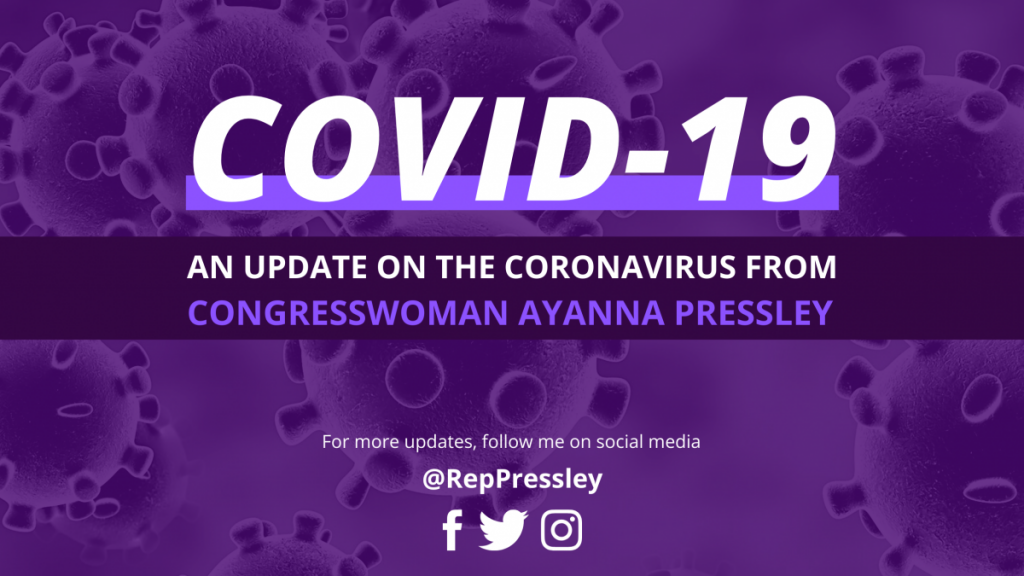 Massachusetts 7th Resources During the COVID-19 Pandemic
To the Massachusetts 7th Community,
Thank you for turning to our office for support and resources. My team and I are working with federal, state, local officials and with community leaders to provide assistance and connect you to information about the coronavirus, also known as COVID-19.
We have compiled the resources below and will continue to update this page in real time. Please don't hesitate to reach out to our office with questions (617) 850-0040.
Ayanna Pressley
Member of Congress
STAY INFORMED
The Latest Updates (11/16/20)
Follow CDC guidelines on steps to prevent illness and keep our community safe, COVID19 symptoms, and what to do if you are sick. CDC recommends wearing a face mask at all times in public.
Telehealth and telemedicine are covered with relaxed regulations.
Check local public school website for updates on school closures, remote learning, and reopening plans for the fall, as some districts have longer closure periods and are beginning to release new policies:
TESTING, TREATMENT, AND MORE HEALTH INFORMATION
For information about COVID-19, symptoms, and healthcare referrals: dial 2-1-1. This hotline is open 24 hours a day, 7 days a week. All calls are free and confidential. Interpreter services are available in multiple languages.
Massachusetts Department of Public Health 24-hour Emergency Hotline: 617-983-6800
Get help with health insurance questions and complaints by contacting Massachusetts Attorney General Maura Healey's Health Care Division at 1-888-830-6277.
The City of Boston's Tracker of COVID-19 Cases can be found at this website.
FOOD ACCESS
Foodsource Hotline: To find food resources in your community, call the FoodSource Hotline at 1-800-645-8333 (TTY: 1-800-377-1292). Open Monday-Friday 8:00am-7:00pm and Saturdays 10:00am-2:00pm. Project Bread staff are available to answer any questions in 160 languages.
Food Pantries:
Greater Boston Food Bank Food Assistance Program locator: GBFB.org/need-food
Catholic Charities Yawkey Center, 185 Columbia Road, Dorchester: 617-506-6600 Monday through Friday, 9:00 a.m. – 3:00 p.m. (Bring a photo ID.)
Catholic Charities at Somerville 270 Washington Street, Somerville : 617-625-1920 Monday through Thursday, 10:00am – 4:00pm, and Friday, 10:00am – 1:00pm. (Bring a photo ID.)
Find your local YMCA branch for food resources: https://ymcaboston.org/branches
Supplemental Nutrition Assistance Program (SNAP): SNAP, more commonly known as food stamps, ensures that individuals receive the food they need, especially if they are newly unemployed. To apply for SNAP benefits, visit the Massachusetts SNAP Office website or the U.S. Department of Agriculture's Food and Nutrition Services regional office near you. Online SNAP purchasing is now available at Walmart and Amazon. Visit https://www.mass.gov/snap-online-purchasing-program for more information.
Special Supplemental Nutrition Program for Women Infants and Children (WIC): WIC provides access to nutritious foods for low-income pregnant women or mothers. To see if you are eligible for benefits, visit the WIC PReScreening Tool and visit the WIC website to apply or contact the Massachusetts WIC Office for additional support.
For Students:
Massachusetts children who are eligible for free or reduced-price school meals will receive additional support to purchase food during school closures associated with COVID-19. Pandemic EBT (P-EBT) provides households an EBT card with the value of free school breakfast and lunch reimbursement rates for the days that schools are closed to help them purchase groceries. Like a debit card, the P-EBT card can be used to purchase food at grocery stores. Anyone needing information about P-EBT can learn more from Project Bread at www.projectbread.org/covid19
Use this map to search free food for students by town.
Find Pick Up Times and Locations for Free Meals Through Your Public School System:
Federal student loan payments have been suspended until December 31, 2020. For up to date guidance on student loans and financial aid during the pandemic, visit https://www.studentaidpandemic.org/
CHILD CARE
The Massachusetts Department of Early Education and Care has posted a listing of drop-in child care programs open to provide emergency, back-up, drop-in child care for vulnerable families and members of essential workforces who have no other option. https://eeclead.force.com/apex/EEC_ChildCareEmergencyProcedure
To support virtual learning, the City of Boston has provided a list of special offers for low-income residents for internet access. Learn more at https://www.boston.gov/news/internet-connectivity-and-technology-supports-during-covid-19-response.
UNEMPLOYMENT, HOUSING & UTILITIES
If you have become unemployed during the pandemic, you may be eligible for unemployment insurance. The one week waiting period to file for unemployment benefits has been waived. Visit www.mass.gov/how-to/apply-for-unemployment-benefits to learn more about eligibility and how to apply.
Información de desempleo de Massachusetts sobre el virus COVID-19 en español: https://www.mass.gov/info-details/informacion-de-desempleo-de-massachusetts-sobre-el-virus-covid-19
If you are newly eligible for Pandemic Unemployment Assistance, you can apply at www.mass.gov/pua. Pandemic Unemployment Assistance is a program open to the following individuals:
Self-employed individuals, including gig workers, freelancers, and independent contractors
Those seeking part-time employment
Claimants that have an insufficient work history to qualify for benefits
And claimants that have been laid off from churches and religious institutions and are not eligible for benefits under state law
Some local authorities have updated guidance that support residents in paying their bills during the pandemic:
A new Boston Rental Relief Fund will provide a $3 million fund to assist Bostonians who are at risk of losing their rental housing due to the COVID-19 pandemic. The funds will help income-eligible tenants in the City of Boston achieve housing stability by providing direct financial relief to assist with rental payments. To learn more about eligibility and apply, visit https://www.boston.gov/departments/neighborhood-development/office-housing-stability/rental-relief-fund
National Rental Assistance Program Resources Guide: https://www.rentassistance.us/
Eviction Prevention Hotline: 857-415-2900
Housing Court Information: Greater Boston Legal Services, provides free civil (non-criminal) legal assistance to low income individuals and families in and around Boston https://www.gbls.org/covid-19-information
Defer Mortgage Payment Contact: Boston Home Center at homecenter@boston.gov or call 617-635-4663 and press 3 for help Making Home Affordable or call 888-995-4673 to find a housing counselor
The Massachusetts Division of Rental Assistance has issued guidance to administering agencies on rent recertification, a right for any tenant using the following rental vouchers: MRVP, AHVP, and federal vouchers within DHCD's portfolio. If you have experienced a loss of income, and utilize one of these vouchers, you can apply at any time to have your rent contribution re-calculated by your administering agency.
The COVID-19 Rental Assistance for Families in Transition, or RAFT will assist households of all sizes with financial assistance up to $4,000 per household to help preserve current housing or move to new housing. Explore the following:
The United Way has launched a family support fund to aid hourly and low-wage workers who may need financial help with rent, food, or childcare. For more information, visit https://unitedwaymassbay.org/get-involved/covid-19-family-fund/
For additional support with Rent and Utilities, see pages 27-28 of District Attorney Rachel Rollins' resources packet.
SMALL BUSINESS SUPPORT
The Small Business Administration (SBA) has released guidance and loan resources for small businesses impacted by the pandemic. For more information about SBA resources and to read the full guidance, visit https://www.sba.gov/page/coronavirus-covid-19-small-business-guidance-loan-resources
Massachusetts Growth Capital Corporation is providing PPP technical assistance and multilingual translation and has created a COVID-19 Loan Fund to provide financial relief to Massachusetts businesses. To learn more, visit https://www.empoweringsmallbusiness.org/resources/covid-19-small-business-resources
Employers who are impacted by COVID-19 can ask for a 60 day grace period for their quarterly reports and pay contributions. For more information, visit https://www.mass.gov/info-details/covid-19-guidance-and-directives#businesses-&-employers-
TRANSPORTATION
Public transportation will run on a reduced service to support efforts to slow the spread of COVID-19. All riders and employees are required to wear face coverings while riding the T. Check the Massachusetts Bay Transportation Authority for updates: https://www.mbta.com/covid19
For traffic alerts, visit https://mass511.com
For Massport and Logan Airport alerts, visit http://www.massport.com/massport/
LEGAL SUPPORT WITH TRAVEL REFUND AND CONSUMER PROTECTION
Beware of scams related to COVID-19:
Scammers are taking advantage of COVID-19 to con people into giving up their money via Social Security, bank account, credit card, Medicare ID, or driver's license numbers. To report scammers, speak with a Consumer Specialist in the Attorney General's Office at (617) 727-8400 at 10:00am-4:00pm, Monday through Friday.
Beware of the following:
OTHER REPUTABLE SOURCES
For more information on COVID-19, visit the websites of these government agencies: