Rep. Pressley Introduces Amendment to Protect Consumers from Abusive Debt Collectors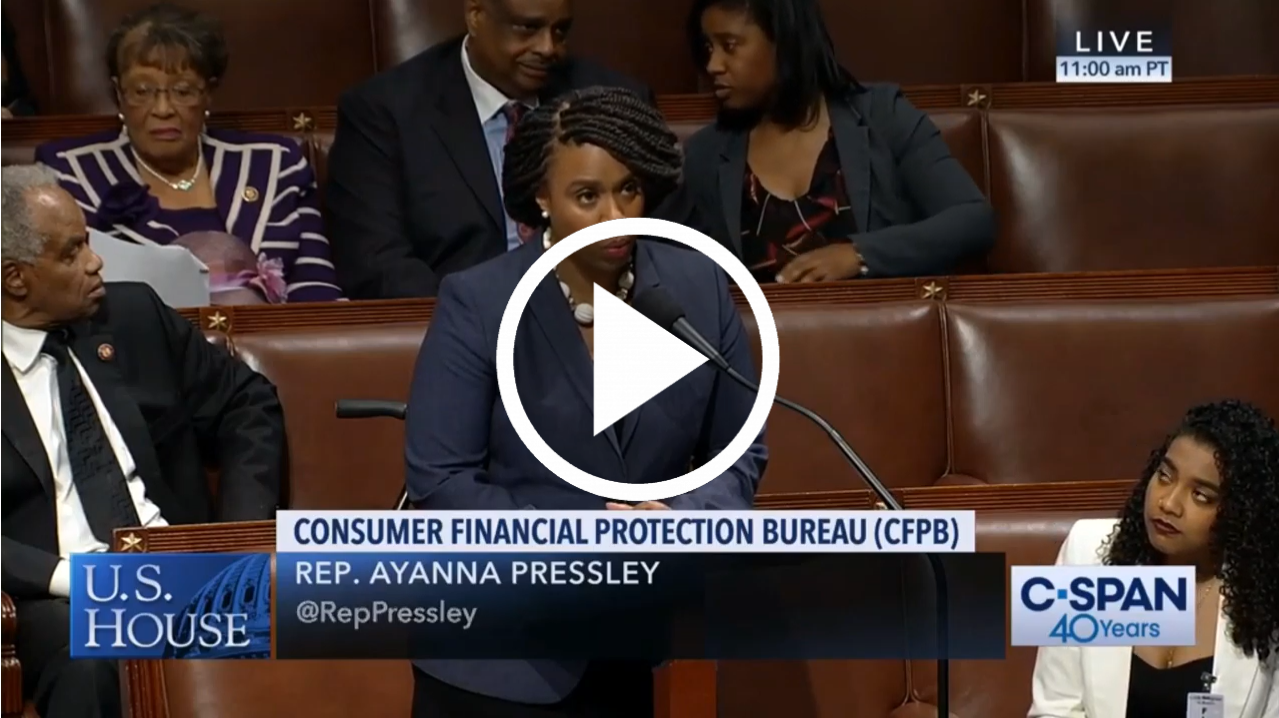 WASHINGTON – Today, during debate on H.R. 1500, the Consumers First Act, Congresswoman Ayanna Pressley (MA-07) introduced an amendment that would protect consumers from abusive debt collectors. The Consumers First Act upholds the Consumer Financial Protection Bureau's (Consumer Bureau) mission to protect American consumers by directing the Consumer Bureau to reverse anti-consumer actions taken during Acting Director Mick Mulvaney's tenure. Specifically, Congresswoman Pressley's amendment to the bill would:
Prohibit the Director from issuing any rule that allows debt collectors to send unlimited emails and text messages to consumers, and
Instruct the Director of the Consumer Bureau to issue a quarterly report on: (1) debt-collection related complaints and (2) any enforcement actions taken against debt collectors in the previous 12 months.
Congresswoman Pressley's amendment passed and will be included in the Consumers First Act:
As Prepared for Delivery
I rise today in support of my amendment to H.R. 1500, and in support of the Consumers First Act. I am proud to cosponsor this bill, which will return the Consumer Bureau to its intended role as a nonpartisan consumer watchdog that protects the interests of American taxpayers, not those of the special interests.
In 2017, the Urban Institute found that 71 million Americans had a debt in collection on their credit report. Meanwhile, collectors estimate they contact consumers more than a billion times a year. During the 2008 financial crisis, people lost their homes, their jobs and hard-earned wealth. This crisis was the prime example of what can happen when nobody is looking out for consumers who are left to navigate a financial system built to confuse, mystify and capitalize on the most vulnerable. In response, Democrats created the Consumer Financial Protection Bureau - an agency with the sole mission of protecting consumers and holding lenders accountable when they put profits over people.
In my home state of Massachusetts, 46 percent of those living in minority communities have debt in collections compared to only 18 percent of residents in predominantly white areas.  We know that these debt collectors engage in some of the most aggressive tactics, harassing, berating and even falsely threatening legal action against vulnerable consumers. My amendment would require the Director of the Consumer Bureau to issue quarterly reports to Congress including an analysis of complaints submitted by consumers.
The Consumer Bureau's complaint database has been a crucial tool to monitor harmful industry trends and agency enforcement efforts in defense of consumers. Since the beginning of this Administration, more than 62 thousand consumers submitted complaints on harmful and unfair debt collection practices. The Consumer Bureau under Director Mulvaney and now Director Kraninger's failed leadership, the agency has returned zero relief to harmed consumers. Zero.
My amendment would require the Director to report on the various enforcement actions taken against these debt collectors. Because we cannot afford to go back to the days in which consumers were left to fend for themselves in a financial industry that was stacked against them.  Information is power. The more information we have, the more power we have to protect consumers from harassment.    
Recently, the Consumer Bureau released a proposed debt collection rule, filled with carve-outs and loopholes that would allow debt collectors to more aggressively target and harass consumers through emails and text messages. My amendment would prohibit the Director from issuing further rules that would essentially open the floodgates and allow collectors to bombard consumers.
I urge my colleagues to stand with consumers and support my amendment.
###