Rep. Pressley Blasts Secretary Carson's Reckless Abandon of Public Housing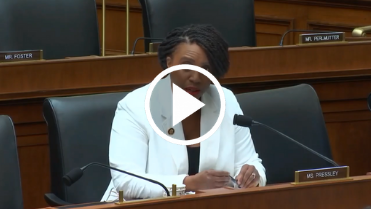 WASHINGTON – During a hearing of the full Financial Services Committee hearing titled "Housing in America: Oversight of the U.S. Department of Housing and Urban Development (HUD)," Congresswoman Ayanna Pressley (MA-07) held HUD Secretary Ben Carson accountable for his department's failure to protect the health and well-being of Americans living in public housing properties.
Congresswoman Pressley's testimony highlighted the lived experiences of residents of the Massachusetts 7th Congressional District who are forced to raise families in HUD-subsidized housing riddled in rodent-infestation and toxic mold. Additionally, the Congresswoman and the Secretary got into a heated exchange due to Secretary Carson's inability to answer simple yes or no questions.
Below are excerpts of Congresswoman Pressley's exchange with Secretary Carson:
Pressley: Secretary Carson, I have waited a long time for this moment, but the residents of my district have been waiting far longer for your agency to do its job. This matter is very, very personal. Let me be clear: housing is a fundamental human right and the displacement of families should be regarded as the public health crisis that it is.

 

People in the Massachusetts 7th would have to work 84 hours a week to afford a decent 1 bedroom at fair market rent. Doris Bunte was a former Massachusetts State Representative in my district and was the first African-American woman to hold the position of head of Boston Housing Authority (BHA) - the first public housing tenant to lead a public housing agency in a major city.  She said, "being poor is not a character flaw." I agree.

 

Given your medical background perhaps you can weigh in on the health consequences of failing to invest in safe housing.  It is well documented that health problems such as lead poisoning, asthma, and injuries from trips and falls, especially among our senior population, can be linked to substandard housing conditions.  Combined, these conditions result in billions a year in healthcare costs. Many of those most at risk of developing these conditions reside in public and federally assisted housing. 

 

Yes or no: If left unaddressed, do you believe the substandard public housing conditions pose a risk to tenants' physical, mental and emotional health? You're a very smart man so you understand the question, please answer it.

 

Carson: You already know the answer.

 

Pressley: Yes or no?

 

Carson: You know the answer.

 

Pressley: Yes or no? I know the answer, do you know the answer? Yes or no?

 

Carson: Reclaiming my time.

 

Pressley: You don't get to do that.

 

Carson: Oh.

 

Pressley: The evidence is clear that if we do not invest the necessary funds today, we will pay the price in people's health tomorrow.  And what is this administration's response? Cuts. Cuts to crucial funding like:

The Public Housing Operating Fund and The Family Self-Sufficiency Program
Section 202 Housing for the Elderly and Section 811 Housing for Persons with Disabilities
And even the complete elimination of the Public Housing Capital Fund
 

These policies are devoid of empathy and humanity. You've been talking the abstract, but I want to get specific.

 

Ms. Northcross, a mother and grandmother living in Brighton, a neighborhood in my district. She has raised her children and now cares for her grandchildren in a property with thick mold on the walls. Her son was recently hospitalized because of bone tumors in his arm and leg. He needs surgery to save and improve his quality of life but won't get it because the family must have sanitary, stable housing conditions first.  Their actual home literally poses a risk of post-op injury and infection.

 

Her question to you, Mr. Carson: "What do they become? When you raise children in these conditions, what can they become?" 

 

Yes or no: Do Ms. Northcross and her family deserve to live in these conditions because they are poor? Would you let your grandmother live in public housing? Yes or no? Under your watch and at your help, would you allow your grandmother to live in public housing? Under these conditions?
# # #